"We are inspirational storytellers bringing hope and aroha to our tamariki in Aotearoa."
Geoff Burton, Launchpad CEO
WHAT

 DO WE DO?

Nāu te rourou, nāku te rourou, ka ora ai te iwi

With your food basket and my food basket the people will thrive.

We connect local communities and schools so together we can equip tamariki with good values and a solid foundation to navigate te ao hurihuri/the ever-changing world. Our weekly, 30-minute Launchpad Champions programme is presented by trained presenters from local communities, and teaches:
Manaakitanga: love, kindness, care and respect for others
What it means to be a good friend
Being brave and doing the right thing
Making good choices and helping others
Self-control and forgiveness
Working together and partnership
Doing your best and asking for help
HOW

 DO WE DO IT?

He aha te kai ō te rangatira? He Kōrero, he kōrero, he kōrero.

What is the food of the leader? It is knowledge. It is communication.

Stories have incredible power to inspire and encourage.

Launchpad presenters from your local community share kōrero from The Bible/Te Paipera Tapu as well as inspiring champions from NZ and world history to present good values, role models and examples for tamariki.

We also use multimedia, music and games, making the lessons fun and engaging.
WHY 

DO WE DO IT?

Whakatō te kākano aroha i roto i o tātou taitamariki kei puawai i roto tō rātou tupuranga aranui oranga.

Plant the seed of love in our children and they will blossom, grow and journey towards the greatest pathway of life.

We believe our tamariki are made for a purpose. We see not only who a young person is but who they can become; We want to see them become all they were made to be.
 Our Launchpad Community
Launchpad Champions is presented throughout Aotearoa New Zealand to approximately 30 000 tamariki by 1 500 volunteer presenters in just under 400 state kura every week. Our Launchpad Champions volunteers come from different churches in 15 regions throughout Aotearoa to present our programmes.
That makes us one big whānau and community.
Our Commitment
Every Launchpad Champions team member is committed to:
Excellence
Launchpad Champions team members will present professional sessions that encourage positive values.
Values that are important to teachers and schools will be supported through our high-quality presentations.
Presentations will be fun, engaging and relevant for our tamariki.
Integrity
Launchpad Champions team members will honour our Code of Expectations at all times.
This includes regular professional development, observations and undertaking Police Vetting.
Values and interactions will honour the wellbeing and mana of our tamariki.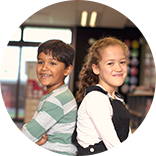 Respect
Launchpad Champions team members will respect the experiences and beliefs of our tamariki and their whānau.
Our team members will uphold school and classroom policies and procedures.
Communication with schools and staff will be open and responsive.
Community
Launchpad Champions team members will work in partnership with schools and communities to encourage our tamariki to reach their potential.
Presentations include ideas for tamariki to apply positive values in their life and communities.